Cannonball
(
Samuel Zachary Guthrie
)
is a fictional Marvel Comics superhero, associated with the X-Men.
Cannonball is a mutant who possesses the ability to fly at jet speeds while encased in an invulnerable
force field
. The eldest of a large Kentucky coal mining family, Cannonball is one of few X-Men from a southern,
rural
background and has maintained the values of civility, hard work, and a strong commitment to his beliefs throughout his career as a superhero. Several of his siblings are also mutants and have joined X-Men-related teams, including his sisters, Paige and Melody, and brothers Jay and Jeb. Other siblings include a brother named Lewis, and sisters Joelle and Elizabeth.
Cannonball was a founding member of the X-Men's junior team The New Mutants. He joined The New Mutants' later incarnation X-Force, serving as second-in-command and field leader. He joined the X-Men, becoming the first member of a secondary team to "graduate". His tenure was complicated by clashes with superiors and he eventually rejoined X-Force and later the X-Men once more.
A
"salt-of-the-earth"
, honest, well-mannered and responsible young man, Guthrie is a natural leader. Guthrie is a fan of science fiction, especially the works of Robert A. Heinlein.
Cannonball is a mutant that possesses the
ability to bodily generate thermo-chemical energy and release it from his skin
. This energy is used as thrust to cause his body to be propelled through the air like a rocket, at great heights and speeds with considerable maneuverability. He can control his speed and direction through sheer act of will. At first, he could only release this energy from his feet and legs, but now he can fire it from almost any part of his body, to a wide variety of effects. This energy also
manifests itself as an impenetrable and virtually indestructible "blast field"
that protects him from bodily harm. He can use this blast-field for the following effects: to function as a personal shield or extending it to encompass others, to shape the field around another person to imprison them, or to absorb outside kinetic impact into his own energy supply, enabling him to increase the bludgeoning power of his blows or to create explosive shock waves upon impact.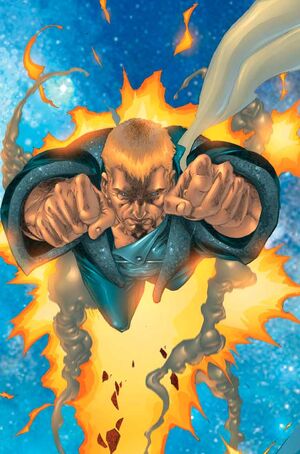 His power levels have varied over the years - but at his peak, he has been able to devastate several city blocks by plummeting to the ground from high altitude, as well as absorb (and redirect) the force of one of Gladiator's strongest punches.
He may also be a member of the immortal mutant group the Externals, due to his apparent ability to return to life after death.
This however is highly disputed