Cecilia Reyes
is a Marvel Comics
character
who was briefly a member of the X-Men
Raised in the
Bronx
, she is an Afro-Latin American (originating from Puerto Rico) medical doctor specializing in trauma surgery . She has the mutant ability to project a
force field
around her body. Unlike most X-Men, she has no interest in superheroics, and desires only to live an ordinary life, having been forced into the team by circumstance.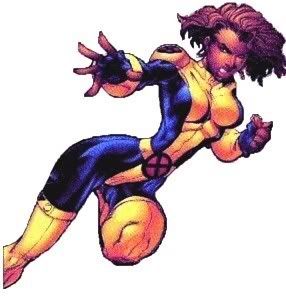 Cecilia can generate a force field, described in her first appearance as a "psioplasmic bio-field" around her body which provides resistance to energy and physical attacks, and can shape or expand it to protect those nearby; however, impacts on the force field cause Cecilia pain. She also has shown the ability to wield her forcefield as a blunt force, pushing others out of her way. In X-Men (vol. 2) #100, she created spikes which could punch through a human body. While under the effects of the mutant-enhancing drug Rave, Cecilia is also able to use her force field offensively, forming it into a blade that can be used to attack enemies. The field can be raised consciously, but in her initial appearances, it is triggered by any external force used against it. While effective against external force, her field still leaves her vulnerable to attacks of insufficient force, such as gas, as seen when Colossus rendered her unconscious with a gas weapon.
Cecilia is also a capable medical doctor and surgeon, making her the only member of the X-Men who is a doctor of medicine.